Bettanini's Custom Manufacturing

At Bettanini's Custom Manufacturing, we are committed to providing high quality machined parts, built to your specifications, delivered when and where you need them.

It is our desire to build a relationship with your company that will last for many years to come. We can assist in design of your parts to achieve lower manufactuing costs, tighter tollerances, and increase your profits by doing so.

Whether small quantity prototype parts or large production volume orders, your order will be given the attention and priority you deserve.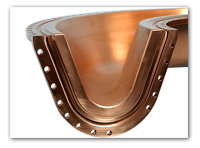 We are a full service manufacturing company, where you are only limited by your imagination.